While trying to find out why vtkProbeFilter often fails when probing a single-slice 3D volume with a line, I've found that vtkProbeFilter returns early because it finds that the line's bounding box does not intersect the volume's bounding box.
Digging deeper, it turned out that no intersection was found because vtkImageData::ComputeBounds returned 0 thickness if the volume had a single slice** (see code here). So, unless the line endpoints were slightly off, on two sides of a plane centered on the origin, the filter did not consider the line to be inside the image.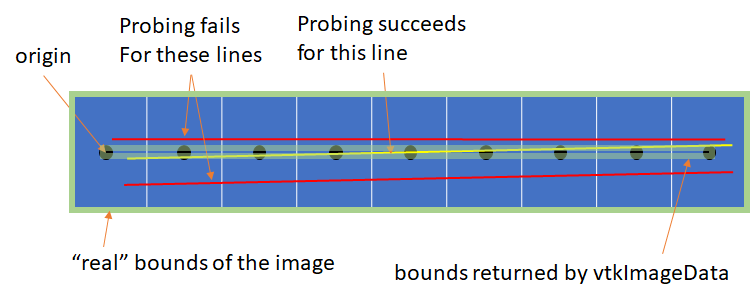 I've found in a previous discussion about this topic that for vtkImageData "The bounds go from the center of the first voxel to the center of the last voxel. So the code in vtkImageData.cxx is correct.".
Is this really always the case? Anything that is beyond the center of edge voxels are cut off everywhere?
If not, then how do we know if a filter operates on the entire image data or just inside the bounds returned by vtkImageData? For example, I don't think that vtkImageReslice cuts off half of all the edge voxels, but vtkProbeFilter seems to ignore anything outside the bounds.
It may be difficult to change image bounding box behavior now, but at least it should be very clearly documented what is the intended behavior and why. Using that information, we could decide if a particular filter works correctly or must be fixed.
For example, based on the specification, it should be clear how to make probing work on single-slice volumes: fix vtkImageData::GetBounds() (to return the full image region), fix vtkProbeFilter (to use full image region and not the bounds returned by vtkImageData), improve vtkProbeFilter (to use tolerance value in bounding box intersection check), or we should implement workarounds case by case at application level.