Opening a DICOM stack, visualizing as a Volume, and then opening the Color Map Editor and choosing Dislay data histogram causes ParaView to crash (program hangs and then shuts down unexpectedly).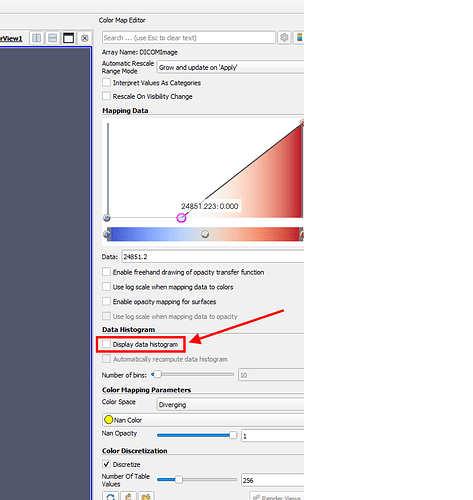 System Hardware
OS: Windows 10 Enterprise, x64-bit, Build 1909
CPU: 2x Intel(R) Xeon(R) Gold 6248R
Disk: 2TB NVMe M.2 SSD
RAM: 192 GB DDR4
Compute GPUs: 2x NVIDIA Quadro RTX8000 in TCC mode with NVLink
Display GPU: 1x NVIDIA Quadro RTX4000
Relevant Software
Paraview: ParaView-5.9.1-MPI-Windows-Python3.8-msvc2017-64bit.exe (used pre-built binary installer on ParaView Downloads website)
Visual Studio: [Visual Studio 16 2019 Community][1]
Windows SDK: [10.0.19041.0][2], targeting 10.0.18363
Python: [3.8.10 x64-bit][3]
CMake: [3.21.1][4] (I use CMake-GUI)
Does anyone know:
Why does this happen?
How to fix the problem?
Thank you!