A robust, high-quality uniform remeshing filter is an essential tool in any mesh modelling library. I know that VTK was originally not meant for modelling and probably there was no known open-source algorithm for uniform remeshing. But VTK has some excellent modelling tools now, VTK is widely used for modelling, and the open-source ACVD algorithm has proven to work very well for generating high quality uniform meshes.
Therefore, it would be time to add ACVD remeshing to VTK.
It has a BSD-type license. There is also a simplified implementation (uniform remeshing only) in Python (pyacvd), which would be sufficient.
We have recently made available this pyacvd implementation in 3D Slicer and it works amazingly well and it is already brought very significant improvements into several mesh modeling workflows. Here is a quick comparison with fast quadric decimation: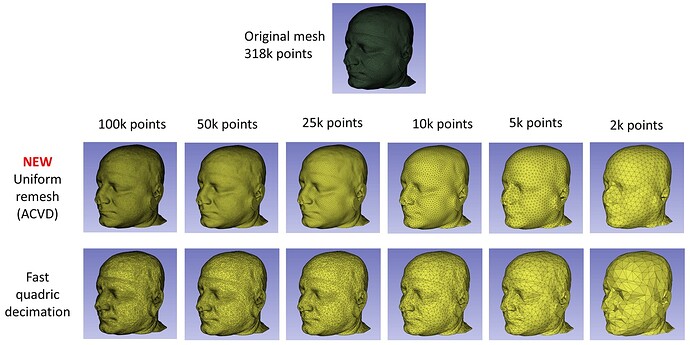 I know that I cannot "request" a feature without offering funding or contribution, I just wanted to bring this algorithm into VTK core developers' attention. When a funded project requires high-quality uniform meshes then adding an ACVD might be added to the scope, as it may very significant quality improvements in any case when uniform point distribution on a surface mesh is needed.