I followed this example here: vtk.js
I am able to get my PolyData to render with the Tube Filter and use setInputArrayToProcess to get the right color map to render during the initial pipeline creation.
However, if I try to modify the array name I want the color map applied to by calling setInputArrayToProcess again with another array name, it doesn't apply the color map properly. It just changes to a solid color. I then need to refresh so that the entire pipeline is executed again, and the mapper/actor is recreated etc…
I have tried setting the modified properties on the actor, mapper, polydata, and tubefilter.
Is there a way to update this without having to delete/recreate all these objects?
Thanks,
Nick
Here is where I am setting the mapper. The only line I change here is 43 arrayName. This works for points and lines representations. It also initializes fine for the tube filter.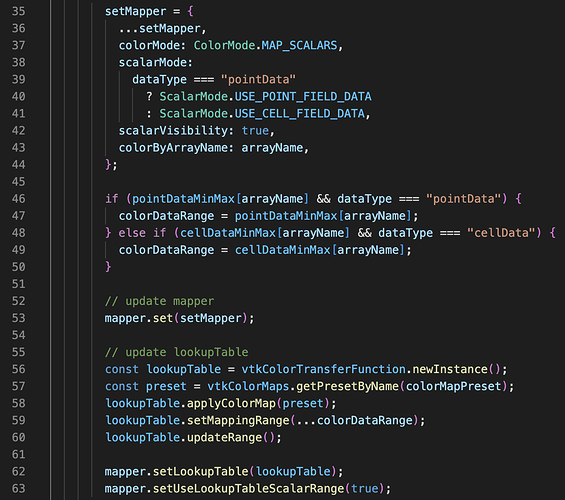 When the arrayName changes, I am calling this on the tube filter: