Dear All, I am working on a project on visualizating MIP of carotid-cerebral arteries of two types, namely with bone shown and without. The results are like these.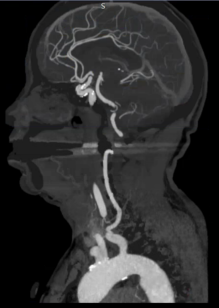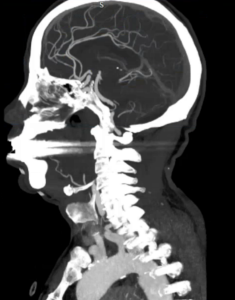 Here, I succeeded in vislualization top image ( removing bones by a high intensity threshold and mip )
Class vtkFixedPointVolumeRayCastMapper
code are as the following
volumeMapper = vtk.vtkFixedPointVolumeRayCastMapper()
volumeMapper.SetInputConnection( vtkImage.GetOutputPort())
volumeMapper.SetBlendModeToMaximumIntensity()
But in order to get the second one, I used the same class on image (with bones), and only to get a bright silouette. Then I realized it is the intensity of bones that is shown in this mip image.
Later, I think I could achieve if by generating a No-Bones MIP, and on top of it, laying one slice of bone image (like image blending).
However, after searching quite a while, I could not make it.
Please help me if you know how to finish this blending process in VTK.
Any hint and suggestion is appreciated.
Thanks in Advance!!