What's the right way to derive the state from the vtk.js renderer (or other source) so that it can be properly reflected in the frontend using React?
I'm using vtk.js in React, and have created an app with controls that can adjust the camera and properties of actors.
I'm managing the state of the vtk.js scene with a custom object, but would prefer to derive the state directly from the vtk.js scene itself.
I see that a lot of objects including the vtkRenderer have a function getState() which seems appropriate. Unfortunately when I call renderer.getState() I get a Maximum call stack size exceeded error. Similarly when I call actor.getState() I get an error related to reading the isA property. I also tried calling renderer.get() / actor.get() prior to calling getState() to 'reify' some of those object values, but that didn't help.
For a little more context, my custom state object is an array of Actor objects shown below.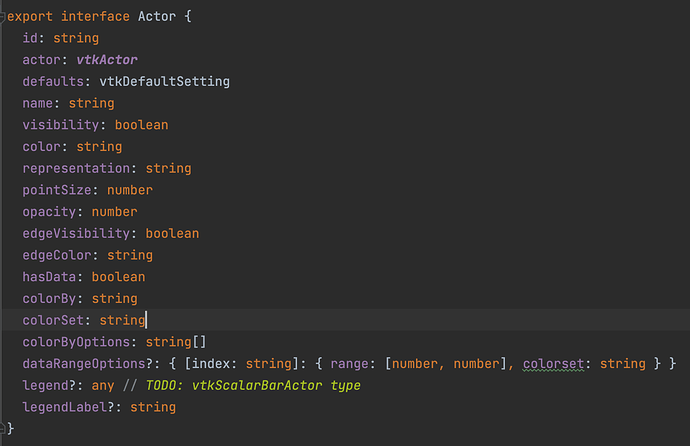 I'm using useReducer (like redux) to manage the state, which provides an opportunity to change the state of the vtk.js scene and then call a function that will return the new state. That looks like this: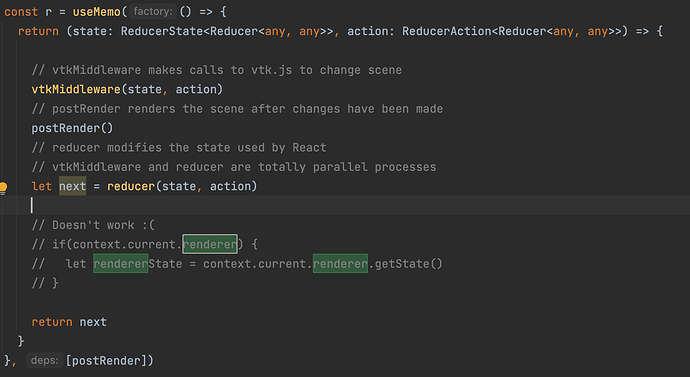 Any advice anyone can provide would be greatly appreciated! Thanks in advance