HI Paulo, I am not suggesting that the bug is necessarily in VTK. It is quite reasonable that the problem lies somewhere else. I need to find where. However my graphics card drivers are the latest: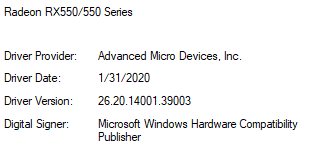 I will try to test the issue on all machines I can find. I have already tested it on another PC with a different AMD graphics card model. On this machine I also tested it without the mesa 3D dll, the output is the same. Since the Mayavi code does not have the problem I am hesitant to blame the graphic driver, although I don't know exactly what the code does.
Thanks for your suggestions.