Hi,
I'm thinking to write custom volume dataset for working with scalars.
I work with geo data and usually there we have arbitrary X,Y coordinates (XY are oriented in horizontal plane, Z is vertical axis) and Z is usually have constant length and constant spacing.
For example for for some points X0, Y0, we have Z array [10, 8, 6, 4, 2, 0, -2,-4, -6, -8].
For X1, Y1 we may have Z array [2, 0, -2, -4, -6, -8, -10, -12, -14, -16]. Here is the schema of that: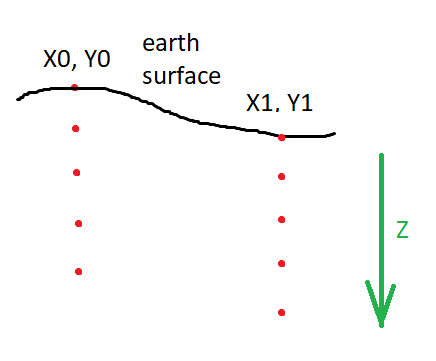 At both surface coordinates (X0Y0 and X1Y1) Z have constant spacing (-2) and constant length (10 elements). In the same time X and Y coordinates are absolutely arbitrary.
I plan to write a class similar to vtkImageData but adjusted to my special case, thus reducing memory usage. Because my data is pretty big (may take few gigabytes) and I don't want to store every XYZ coordinate for each point, they can be calculated pretty simple.
The visualization should be similar to vtkImageData based on scalars.
As I don't have an experience of writing vtkDataSet classes I need an advice. Maybe the idea is completely absurd?