Hi,
VTK standard coordinate system is right-handed wich means that cross product X * Y gives Z (like in the picture).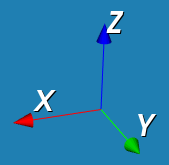 I'm wondering is there is a way to change the native right-handed VTK coordinate system to left-handed (such that X * Y = -Z)?
I have to notice that this is not a matter of camera position but this rather a question about setting global VTK coordinates directions (set each axis increase and decrease directions).
Also simply renaming names of vtkAxisActor doesn't solve the problem beacause I have many actors and rotating each of them is a bad idea I think.
If someone has ideas - please share
Regards