Hello,
I often find myself in a situation where I have to deal with co-planar surfaces. The render differs depending whether or not I am using depth peeling.
Occlussion or composite change nothing in the result.
I am creating 2 cubes, that are slightly shifted in opposite directions, apply same opacity and some colors.
Left render is without depth peeling, right is with depth peeling. The central zone should be redish and it is strange that only the opposite face is colored.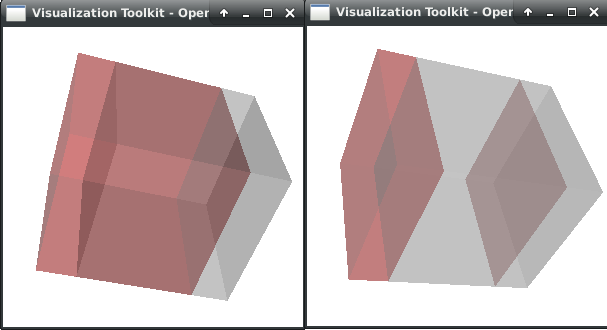 Here is a python script:
#!/usr/bin/env python3
import vtk

# Grid
x = vtk.vtkFloatArray()
y = vtk.vtkFloatArray()
z = vtk.vtkFloatArray()

x_dim = y_dim = z_dim = 5

for v, dim in zip((x, y, z), (x_dim, y_dim, z_dim)):
  for i in range(dim):
    v.InsertNextValue(i)

grid = vtk.vtkRectilinearGrid()
grid.SetDimensions(x_dim, y_dim, z_dim)
grid.SetXCoordinates(x)
grid.SetYCoordinates(y)
grid.SetZCoordinates(z)

geometry_filter = vtk.vtkGeometryFilter()
geometry_filter.SetInputData(grid)
geometry_filter.Update()

# Cube1
translate_transform1 = vtk.vtkTransform()
translate_transform1.Translate(-1., 0., 0.)
translate_filter1 = vtk.vtkTransformPolyDataFilter()
translate_filter1.SetTransform(translate_transform1)
translate_filter1.SetInputConnection(geometry_filter.GetOutputPort())
translate_filter1.Update()
cube1 = geometry_filter.GetOutput()

# Cube2
translate_transform2 = vtk.vtkTransform()
translate_transform2.Translate(1., 0., 0.)
translate_filter2 = vtk.vtkTransformPolyDataFilter()
translate_filter2.SetTransform(translate_transform2)
translate_filter2.SetInputConnection(geometry_filter.GetOutputPort())
translate_filter2.Update()
cube2 = translate_filter2.GetOutput()

# Composite
composite = vtk.vtkMultiBlockDataSet()
composite.SetBlock(1, cube1)
composite.SetBlock(2, cube2)

# Display attributes
display_attributes = vtk.vtkCompositeDataDisplayAttributes()
display_attributes.SetBlockOpacity(cube1, 0.3)
display_attributes.SetBlockOpacity(cube2, 0.3)
display_attributes.SetBlockColor(cube1, (0.8, 0., 0.0))
display_attributes.SetBlockColor(cube2, (0.8, 0.8, 0.8))

# Pipeline
## Mapper
mapper = vtk.vtkCompositePolyDataMapper2()
mapper.SetCompositeDataDisplayAttributes(display_attributes)
mapper.SetInputDataObject(composite)

## Actor
actor = vtk.vtkActor()
actor.SetMapper(mapper)

## Renderer
renderer = vtk.vtkRenderer()
renderer.SetBackground(1., 1., 1.)
renderer.SetUseDepthPeeling(True)
#renderer.SetOcclusionRatio(0.)
renderer.AddActor(actor)

## RenderWindow
render_window = vtk.vtkRenderWindow()
render_window.AddRenderer(renderer)

## Interactor
interactor = vtk.vtkRenderWindowInteractor()
interactor.SetRenderWindow(render_window)

# Start
render_window.Render()
print('Depth peeling used:', renderer.GetLastRenderingUsedDepthPeeling())
interactor.Start()

I also tried VTK_USE_LEGACY_DEPTH_PEELING variable this seems to completely discard one of the cube regarding colors.
Is there any paramters I can tune in the dual depth peeling pass?
Thank you