Dear VTK Users,
I am in a situation where I have a series of ellipses (discretized as polygons with about 20 points) one after the other and I would like to "connect" them in order to create a "tube"-like surface (exterior only, I don't care about the interior).
In the past I used to use vtkLinearExtrusionFilter and I managed to make it do what I wanted, but I am not sure I can do it this time.
Considering two ellipses one after the other: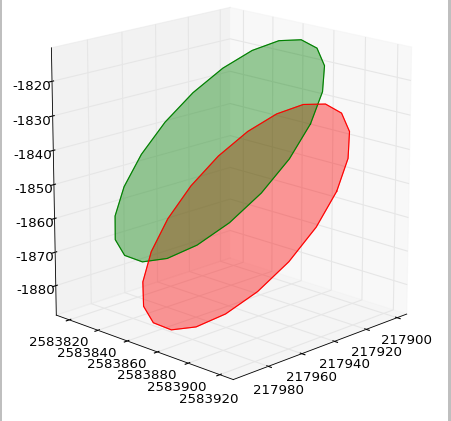 I am encountering the problem that, in general, they do not have the same major/minor axes (a & b), the major/minor axes are not in the same proportion, there isn't an obvious relationship between the ellipse axes for two subsequent ellipses, and the second ellipse may be rotated in 3D compared to the first one.
I am not sure I can make vtkLinearExtrusionFilter work in this case. If I can, I welcome any suggestion on how to do it. If it's not possible, could you please recommend a way to create a "tube"-like surface by connecting these polygons somehow?
Thank you in advance for any suggestion.
Andrea.