I'm playing a bit with a vtkSobelGradientMagnitudePass pass using python and vtk 9.0.1 on Windows 10.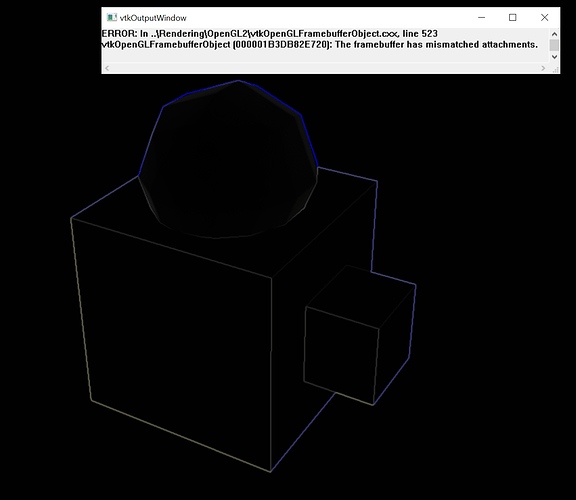 When I resize my window I get the following error:
"ERROR: In …\Rendering\OpenGL2\vtkOpenGLFramebufferObject.cxx, line 523
vtkOpenGLFramebufferObject (000001B3DB82E720): The framebuffer has mismatched attachments."
Is this a bug or am I doing something wrong? I must say I'm having quite a hard time figuring out how to set up all the passes correctly.
#!/usr/bin/env python

import vtk


def main():
    colors = vtk.vtkNamedColors()

    # Create a rendering window and renderer.
    ren = vtk.vtkRenderer()
    renWin = vtk.vtkRenderWindow()
    renWin.SetWindowName("Cube")
    renWin.AddRenderer(ren)

    # Create a renderwindowinteractor.
    iren = vtk.vtkRenderWindowInteractor()
    iren.SetRenderWindow(renWin)

    # Create cube.
    cube = vtk.vtkCubeSource()
    cube.SetXLength(5)
    cube.SetYLength(5)
    cube.SetZLength(5)
    cube.Update()

    # mapper
    cubeMapper = vtk.vtkPolyDataMapper()
    cubeMapper.SetInputData(cube.GetOutput())

    # Actor.
    cubeActor = vtk.vtkActor()
    cubeActor.SetMapper(cubeMapper)
    cubeActor.GetProperty().SetColor(colors.GetColor3d("Silver"))

    # Assign actor to the renderer.
    ren.AddActor(cubeActor)

    # Create cube.
    cube = vtk.vtkCubeSource()
    cube.SetXLength(2)
    cube.SetYLength(2)
    cube.SetZLength(2)
    cube.Update()

    # mapper
    cubeMapper = vtk.vtkPolyDataMapper()
    cubeMapper.SetInputData(cube.GetOutput())

    # Actor.
    cubeActor = vtk.vtkActor()
    cubeActor.SetMapper(cubeMapper)
    cubeActor.SetPosition(3.2,0,0)
    cubeActor.GetProperty().SetColor(colors.GetColor3d("Silver"))

    # Assign actor to the renderer.
    ren.AddActor(cubeActor)

    # And a sphere
    # Create cube.
    cube = vtk.vtkSphereSource()
    cube.SetRadius(2)
    cube.Update()

    # mapper
    cubeMapper = vtk.vtkPolyDataMapper()
    cubeMapper.SetInputData(cube.GetOutput())

    # Actor.
    cubeActor = vtk.vtkActor()
    cubeActor.SetMapper(cubeMapper)
    cubeActor.SetPosition(0,3.2, 0)
    cubeActor.GetProperty().SetColor(colors.GetColor3d("Silver"))

    # Assign actor to the renderer.
    ren.AddActor(cubeActor)


    ren.ResetCamera()
    ren.GetActiveCamera().Azimuth(30)
    ren.GetActiveCamera().Elevation(30)
    ren.ResetCameraClippingRange()
    ren.SetBackground(colors.GetColor3d("Blue"))

    # Add vtkSobelGradientMagnitudePass

    basicPasses = vtk.vtkRenderStepsPass()

    cameraPass = vtk.vtkCameraPass()
    cameraPass.SetDelegatePass(basicPasses)

    sobel = vtk.vtkSobelGradientMagnitudePass()
    sobel.SetDelegatePass(cameraPass)

    ren.SetPass(sobel)

    # Enable user interface interactor.
    iren.Initialize()
    renWin.Render()

    iren.Start()



if __name__ == "__main__":
    main()