VTK is new to me, When I try to mark the triangle picked by the mouse as red, Triangles do not render properly.
Here is a video: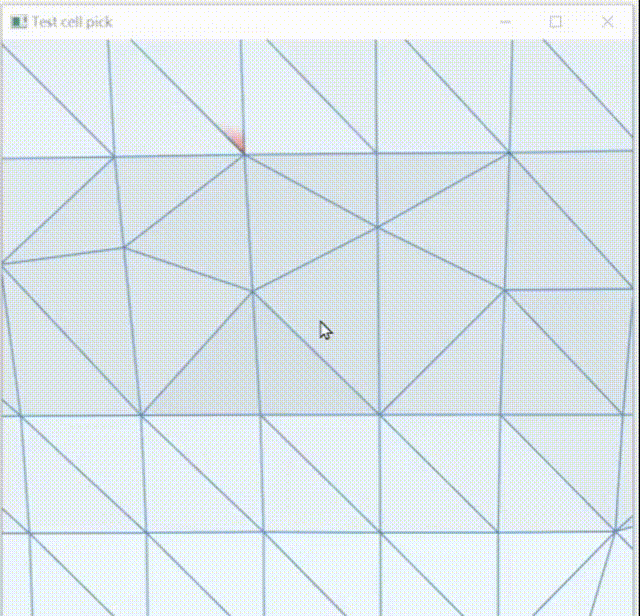 Environment:
OS version: Windows 10 21H2
Python version: 3.8
Vtk version: 9.1.0
Here is a minimal example that reproduces the issue. Can you help me to solve it?
#!/usr/bin/env python

# noinspection PyUnresolvedReferences
import vtkmodules.vtkInteractionStyle
# noinspection PyUnresolvedReferences
import vtkmodules.vtkRenderingOpenGL2
from vtkmodules.vtkIOPLY import vtkPLYReader
from vtkmodules.vtkCommonColor import vtkNamedColors
from vtkmodules.vtkCommonCore import vtkIdTypeArray
from vtkmodules.vtkIOLegacy import vtkPolyDataReader
from vtkmodules.vtkCommonDataModel import (
    vtkSelection,
    vtkSelectionNode,
    vtkUnstructuredGrid,
)
from vtkmodules.vtkFiltersExtraction import vtkExtractSelection
from vtkmodules.vtkInteractionStyle import vtkInteractorStyleTrackballCamera
from vtkmodules.vtkRenderingCore import (
    vtkActor,
    vtkCellPicker,
    vtkDataSetMapper,
    vtkPolyDataMapper,
    vtkRenderWindow,
    vtkRenderWindowInteractor,
    vtkRenderer
)

# Catch mouse events
class MouseInteractorStyle(vtkInteractorStyleTrackballCamera):
    def __init__(self, data):
        self.AddObserver('LeftButtonPressEvent', self.left_button_press_event)
        self.data = data
        self.selected_mapper = vtkDataSetMapper()
        self.selected_actor = vtkActor()

    def left_button_press_event(self, obj, event):
        colors = vtkNamedColors()
        # Get the location of the click (in window coordinates)
        pos = self.GetInteractor().GetEventPosition()
        picker = vtkCellPicker()
        picker.SetTolerance(0.0005)
        # Pick from this location.
        picker.Pick(pos[0], pos[1], 0, self.GetDefaultRenderer())
        world_position = picker.GetPickPosition()
        print(f'Cell id is: {picker.GetCellId()}')
        if picker.GetCellId() != -1:
            print(f'Pick position is: ({world_position[0]:.6g}, {world_position[1]:.6g}, {world_position[2]:.6g})')
            ids = vtkIdTypeArray()
            ids.SetNumberOfComponents(1)
            ids.InsertNextValue(picker.GetCellId())
            selection_node = vtkSelectionNode()
            selection_node.SetFieldType(vtkSelectionNode.CELL)
            selection_node.SetContentType(vtkSelectionNode.INDICES)
            selection_node.SetSelectionList(ids)
            selection = vtkSelection()
            selection.AddNode(selection_node)
            extract_selection = vtkExtractSelection()
            extract_selection.SetInputData(0, self.data)
            extract_selection.SetInputData(1, selection)
            extract_selection.Update()
            # In selection
            selected = vtkUnstructuredGrid()
            selected.ShallowCopy(extract_selection.GetOutput())
            print(f'Number of points in the selection: {selected.GetNumberOfPoints()}')
            print(f'Number of cells in the selection : {selected.GetNumberOfCells()}')
            self.selected_mapper.SetInputData(selected)
            self.selected_actor.SetMapper(self.selected_mapper)
            self.selected_actor.GetProperty().EdgeVisibilityOn()
            self.selected_actor.GetProperty().SetColor(colors.GetColor3d('Tomato'))
            # self.selected_actor.GetProperty().SetLineWidth(3)
            self.GetInteractor().GetRenderWindow().GetRenderers().GetFirstRenderer().AddActor(self.selected_actor)
        # Forward events
        self.OnLeftButtonDown()

def main():
    pd_fn = get_program_parameters()
    colors = vtkNamedColors()

    polyData = ReadPolyData(pd_fn)
    mapper = vtkPolyDataMapper()
    mapper.SetInputData(polyData)

    actor = vtkActor()
    actor.SetMapper(mapper)
    actor.GetProperty().SetDiffuseColor(colors.GetColor3d('Crimson'))
    actor.GetProperty().EdgeVisibilityOn()
    actor.GetProperty().SetColor(colors.GetColor3d('AliceBlue'))
    actor.GetProperty().SetEdgeColor(colors.GetColor3d('SteelBlue'))

    renderer = vtkRenderer()
    renderWindow = vtkRenderWindow()
    renderWindow.AddRenderer(renderer)
    renderWindow.SetWindowName('Test cell pick')
    renderWindowInteractor = vtkRenderWindowInteractor()

    renderer.AddActor(actor)
    renderer.UseHiddenLineRemovalOff()
    renderer.SetBackground(colors.GetColor3d('Silver'))

    picker = vtkCellPicker()
    renderWindowInteractor.SetPicker(picker)

    # Add the custom style.
    style = MouseInteractorStyle(polyData)
    style.SetDefaultRenderer(renderer)
    renderWindowInteractor.SetInteractorStyle(style)

    # Interact to change camera.
    renderWindowInteractor.SetRenderWindow(renderWindow)
    renderWindow.Render()
    renderWindowInteractor.Start()

def get_program_parameters():
    import argparse
    description = 'Test cell pick'
    epilogue = '''
    '''
    parser = argparse.ArgumentParser(description=description, epilog=epilogue,
                                     formatter_class=argparse.RawDescriptionHelpFormatter)
    parser.add_argument('data_file', help='A polydata file e.g. honolulu.vtk or Armadillo.ply. in folder Testing\Data')
    args = parser.parse_args()
    return args.data_file

def ReadPolyData(file_name):
    import os
    path, extension = os.path.splitext(file_name)
    extension = extension.lower()
    if extension == '.ply':
        reader = vtkPLYReader()
        reader.SetFileName(file_name)
        reader.Update()
        poly_data = reader.GetOutput()
    elif extension == '.vtk':
        reader = vtkPolyDataReader()
        reader.SetFileName(file_name)
        reader.Update()
        poly_data = reader.GetOutput()
    return poly_data

if __name__ == '__main__':
    main()