Hi all,
I am having difficulty clipping my polydata along a specific path and would be very grateful for some assistance.
As shown in the image below, I am trying to clip my (green) polydata along a path corresponding to the widest points along the head in the z-direction. I have projected my polydata onto a z-plane, obtained a convex hull, then extracted the widest positions along the sides of the head in 3D. Using those points, I have created a ribbon on each side of the head that I would like to use to clip my polydata so I may discard the data towards the back of the head. How can I clip my polydata along this ribbon?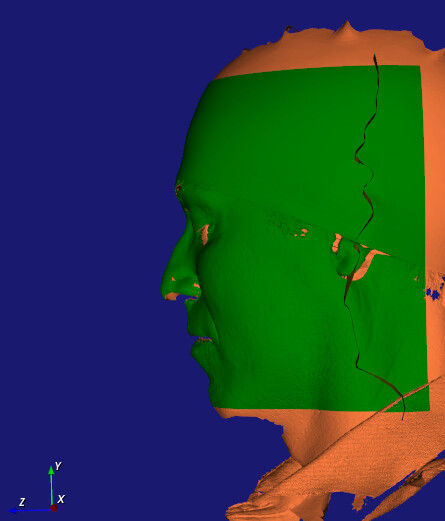 So far, I have tried using those points to define a vtkImplicitSelectionLoop which I then used as the clip function with vtkClipPolyData, but this didn't work. Perhaps the issue here is the orientation of my loop since the examples I've seen appear to define the loop on the surface to essentially punch a hole in the surface. I also tried using the selection loop with vtkSelectPolyData and vtkCutter, but did not obtain any sensible results.
I have also tried using vtkIntersectionPolyDataFilter to split the polydata along the intersection of the ribbon. However, that gives a warning stating "No intersection between objects", and the number of intersection points and lines are equal to 0. The polydata are clearly intersecting so I'm not sure why there are 0 intersections.
How can I clip my polydata along the points that I've identified to be the widest positions around the head?
Thank you for your time!
Matthew