Hi everyone, I am VTK user and recently I needed to start visualizing some DICOM in the 3D space. The idea is to shows some stl from segmentation together with some relative DICOM.
Essentially, I follow the vtkDICOMImageReader example (https://vtk.org/Wiki/VTK/Examples/Cxx/IO/ReadDICOM) which works fine except for the quality of the images I get. Attached you may find an example: on the left the result I get with VTK, on the right the same DICOM read with MicroDicom.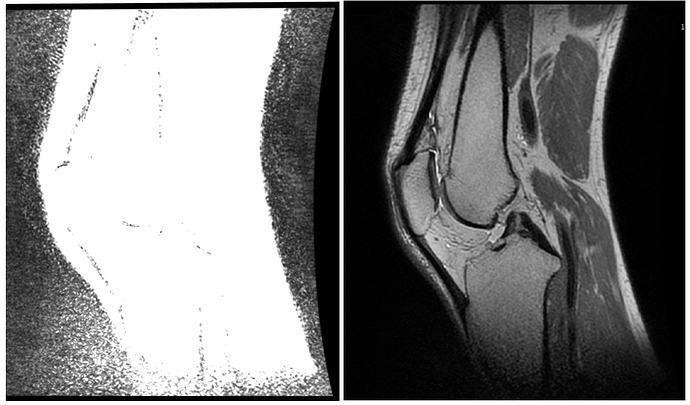 Browsing the net I saw that the expected outcome should be much clearer, however I couldn't figure it out how to adjust brightness and contrast.
Any hint?
Thank you in advance,
Michele
here is my code
    // Read the DICOM 
vtkSmartPointer<vtkDICOMImageReader> reader =    
  vtkSmartPointer<vtkDICOMImageReader>::New();

reader->SetFileName("myDICOM");
reader->Update();

// Mapper
vtkSmartPointer<vtkImageSliceMapper > imageMapper =
  vtkSmartPointer<vtkImageSliceMapper>::New();

imageMapper->SetInput(reader->GetOutput());


//VISUALIZATION
vtkImageActor *Actor	= vtkImageActor::New();

vtkRenderer			*render			= vtkRenderer::New();
vtkRenderWindow		*renWin			= vtkRenderWindow::New();
vtkRenderWindowInteractor *iren		= vtkRenderWindowInteractor::New();

Actor->SetMapper( imageMapper );
Actor->InterpolateOn();
render->AddActor( Actor );

render->SetBackground(255,255,255);
renWin->AddRenderer( render );
iren->SetRenderWindow(renWin);

iren->Initialize();
iren->Start();