I have been noticing some inaccurate principal curvature estimates near peaks of some of manifolds I was working with. Example included below. Areas with issue are pointed by arrows. These inaccuracies are affecting calculation of other curvature-based metrics like curvedness and shape-index.
I am using vtk.vtkCurvatures() in python and visualizing values in paraview. The mean and Gaussian curvatures seems to be okay. To compare, I also computed the principal curvatures (i.e. min, max) from VTK-computed mean and Gaussian curvatures using numpy, using the same formula as that described in documentation. The numpy ones are saved as point-data and looks more reasonable and continuous.
Any suggestions? Explanations?
Min Curvature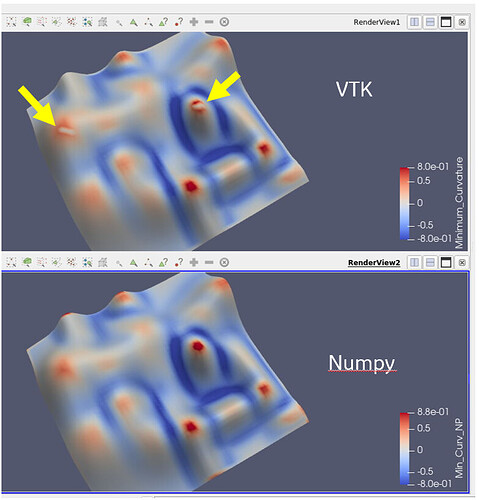 Max Curvature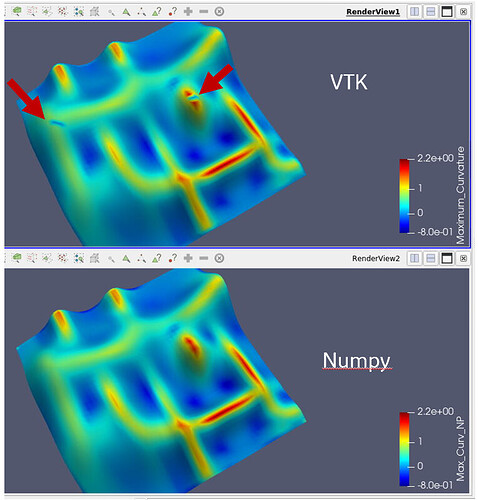 Code snippet to compute curvature:
>>> vtk.VTK_VERSION
'9.0.1'

    def _vtk_curvature(pd, curvature_type_vtk, curvature_name):
        c1 = vtk.vtkCurvatures()
        c1.SetInputData(pd)
        c1.SetCurvatureType(curvature_type_vtk)
        c1.Update()
        return c1.GetOutput(), numpy_support.vtk_to_numpy(c1.GetOutput().GetPointData().GetArray(curvature_name))

    cv2vtk = {
        'Maximum_Curvature': vtk.VTK_CURVATURE_MAXIMUM,
        'Minimum_Curvature': vtk.VTK_CURVATURE_MINIMUM,
        'Gauss_Curvature': vtk.VTK_CURVATURE_GAUSS,
        'Mean_Curvature': vtk.VTK_CURVATURE_MEAN,
    }

    curvature_np = {}
    for cv_name, cv_vtk in cv2vtk.items():
        polydata, curvature_np[cv_name] = _vtk_curvature(polydata, cv_vtk, cv_name)