Hey All,
I am trying to make the ParallelProjection work and I am able to create a camera that uses parallel projection bu the I observe that it does not generate flat views that I expect. Following is what I am doing to generate that generates the attached image of a cube.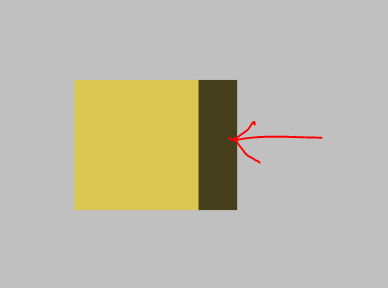 import vtk

colors = vtk.vtkNamedColors()

# Create a rendering window and renderer.
ren = vtk.vtkRenderer()
renWin = vtk.vtkRenderWindow()
renWin.SetWindowName('Cube1')
renWin.AddRenderer(ren)

# Create a renderwindowinteractor.
iren = vtk.vtkRenderWindowInteractor()
iren.SetRenderWindow(renWin)

# Create cube.
cube = vtk.vtkCubeSource()
cube.Update()

# mapper
cubeMapper = vtk.vtkPolyDataMapper()
cubeMapper.SetInputData(cube.GetOutput())

# Actor.
cubeActor = vtk.vtkActor()
cubeActor.SetMapper(cubeMapper)
cubeActor.GetProperty().SetColor(colors.GetColor3d('Banana'))

# Assign actor to the renderer.
ren.AddActor(cubeActor)
ren.SetBackground(colors.GetColor3d('Silver'))

# Create a parallel projection camera
camera = vtk.vtkCamera()
camera.SetPosition(5,0,15)
camera.SetFocalPoint(0,0,-1)
camera.SetParallelProjection(True)
camera.ParallelProjectionOn()

ren.SetActiveCamera(camera)

# Enable user interface interactor.
iren.Initialize()
renWin.Render()
iren.Start()

What am I doing wrong here?
I noticed that if I set the position to (0,0,15) then the side of the cube won't be visible. But it shouldn't be that way. I think parallel projection will work for any postion and I am doing something wrong here.
What I have shared is a sample. I am trying to make this work on scene with multiple actors such as the following image where I am trying to export the side view of a few buildings.