Hello all,
Does anyone have experience with performant real time 2d plotting?
Current application: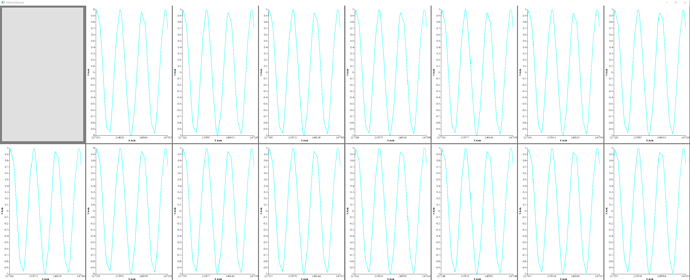 I have a simple test application that I've been tinkering with trying to evaluate the performance of 2d plotting. This uses Qt Quick with a QQuickFramebufferObject (similar to https://gist.github.com/nocnokneo/c3fb01bb7ecaf437f7d6).
Each plot has it's own framebuffer and vtkGenericOpenGLRenderWindow.
The plot is just filling data into a table with a QTimer and sine wave. I have the plots rendering at 5Hz, with the data at 100Hz (back fill every 200ms).
The performance is pretty poor, although this is a somewhat naive implementation (still new to vtk).
VTune indicates:
10% of the time is spent in vtkContext2D::DrawPoly. Mostly in vector::operator[] when trying to build the VBO.
6% of the time is vtkFreeTypeTools::GetBoundingBox for the sliding x-axis.
5% of the time is in malloc: mostly for DrawPoly, some for FreeType
It seems each plot is redrawing all of it's line every frame instead of some sort of transform. Any hints towards more performant real-time plotting would be greatly appreciated!