Hi,
I'm beginner at VTK and I need help to start working with that.
I built VTK library. I can run examples from official site. But to run them I add the following code:
#include <vtkAutoInit.h>
VTK_MODULE_INIT(vtkRenderingOpenGL2);
VTK_MODULE_INIT(vtkRenderingContextOpenGL2); // this is for 2D graphics link
VTK_MODULE_INIT(vtkInteractionStyle);
VTK_MODULE_INIT(vtkRenderingFreeType);
I found that in Internet but I don't understand why should I add these lines?
So when I run these examples a new window appear where I can see the created objects. But how to display VTK objects in Qt window? I have QVTKWidget (see picture below, I just put QVTKWidgetPlugin.dll in ...Qt\Tools\qtcreator-4.11.0\bin\plugins\designer) but I dont know how to use it. Could you please give me some simple example of doing that?
I use Windows 10 x64, Qt 5.14, MSVC 2017 x64 compilator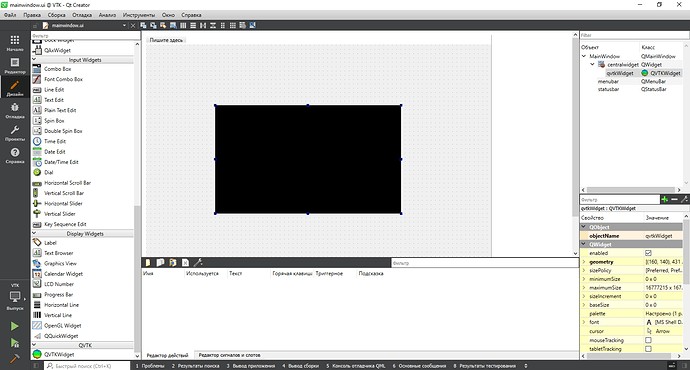 Best regards,
Kerim