Hi all,
I was wondering if anyone would be able to help me.
I have a series of different point clouds (.ply files) of different fields containing crop plots. I've generated this using Pix4D. These field have a natural slope to them which shows in the point cloud elevation.
I have utilized the code in this SO question, https://stackoverflow.com/questions/52716438/python-vtk-normalize-a-point-cloud, to level/ flatten these to an extent to get everything roughly on the same plane. As demonstrated in the attached image, I used the vtk elevation filter to colour the clouds.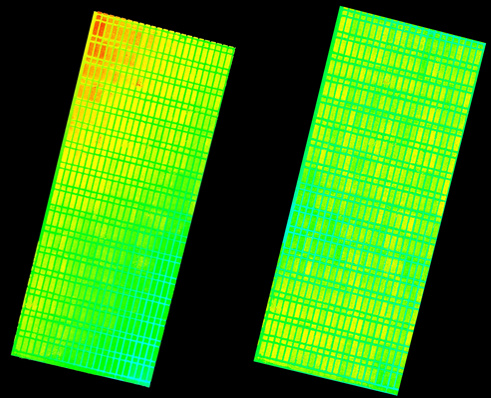 My next step in my work, which I have been struggling to achieve for some time now, is being able to extract the height for individual plots. My thoughts were that I could somehow remove the ground level from the point cloud and then I can work on the distance between the lowest and highest points for each individual plot.
Can anyone provide any advice on what the best way might be to achieve this segmentation of the plots?
Also if anyone thinks that there is a better way of "levelling" my clouds to be on the same plane I would be interested in trialling other methods.
Thanks.