Hello,
I compiled and ran the TriangleColoredPoints example (https://vtk.org/Wiki/VTK/Examples/Cxx/PolyData/TriangleColoredPoints) but no render window was displaying and I was getting the following warning: WARN| vtkInteractorStyleSwitchBase (0x5626f82e6430): Warning: Link to vtkInteractionStyle for default style selection.
I added the following code to fix this based on internet sources:
#include <vtkAutoInit.h>
VTK_MODULE_INIT(vtkRenderingOpenGL2)
VTK_MODULE_INIT(vtkInteractionStyle)
The render window now displays but the output is messed up as you can see in the following image.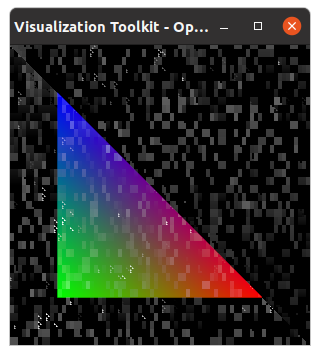 If the camera is rotated a bit, the following output is displayed: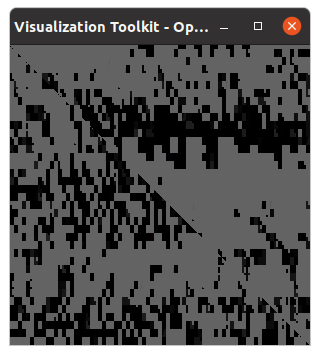 What could be the cause of this? I have the same issue with different polydata as well. I am using VTK 9.0.0 on Ubuntu 20.04.2 LTS. I also tested this with the latest commit from master.
EDIT:
I also tested the newer ColoredPoints example (https://lorensen.github.io/VTKExamples/site/Cxx/PolyData/ColoredPoints/) and added the following in my CMakeLists.txt file instead of using the VTK_MODULE_INIT macros.
vtk_module_autoinit(
TARGETS example
MODULES ${VTK_LIBRARIES}
)
I got the following output: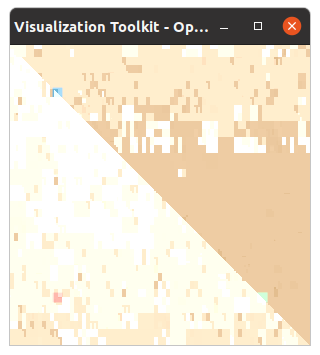 This is my OpenGL info:
OpenGL vendor string: nouveau
OpenGL renderer string: NV124
OpenGL core profile version string: 4.3 (Core Profile) Mesa 20.2.6
OpenGL core profile shading language version string: 4.30
GPU: GTX 970