I have a binary mask, and I want to display the isoface. The special mask is zero for all pixel except that the intensity is one for two slice, for example

import vtkmodules.all as vtk

img = vtk.vtkImageData()

img.SetDimensions(256, 256, 256)
img.AllocateScalars(vtk.VTK_DOUBLE, 1)

# initial all zero
for i in range(256):
    for j in range(256):
        for k in range(256):
            img.SetScalarComponentFromDouble(i, j, k, 0, 0)

for i in range(64, 192):
    for j in range(64, 192):
        img.SetScalarComponentFromDouble(i, j, 128, 0, 1)

for i in range(64, 128):
    for j in range(64, 128):
        img.SetScalarComponentFromDouble(i, j, 129, 0, 1)


The mask is 256x256x256, and is initialized as zero. There are some pixels are one for 128/129 slice.
Then, I want to compute the isosurface and display it. The code is:

cf = vtk.vtkContourFilter()
cf.SetInputData(img)
cf.ComputeNormalsOn()
cf.SetValue(0, 1)
cf.Update()

mapper = vtk.vtkPolyDataMapper()
mapper.SetInputData(cf.GetOutput())
actor = vtk.vtkActor()
actor.SetMapper(mapper)
actor.GetProperty().SetColor(0, 0, 1) # set to blue color
actor.GetProperty().SetOpacity(0.2)

renderer = vtk.vtkRenderer()
renderer.AddActor(actor)
renderer.SetBackground(1, 1, 1)
renWin = vtk.vtkRenderWindow()
renWin.AddRenderer(renderer)
iren = vtk.vtkRenderWindowInteractor()
iren.SetRenderWindow(renWin)
iren.Initialize()
iren.Start()


And the result is: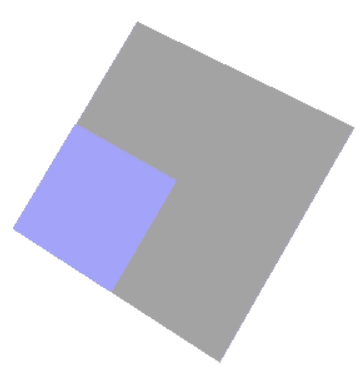 I set the color to blue by actor.GetProperty().SetColor(0, 0, 1), but there is some gray part. What's wrong with my code? How to set the color to blue?
Any suggestion is appreciated~~~