I have written C++ code for a Stacked Bar / Line plot but I am not getting the proper legend and I cannot work out why.
The legend works fine in a simple Bar / Line plot, but as soon as I introduced a second input array for the vtkPlotBar to make it a stacked bar, the line info in the legend disappeared.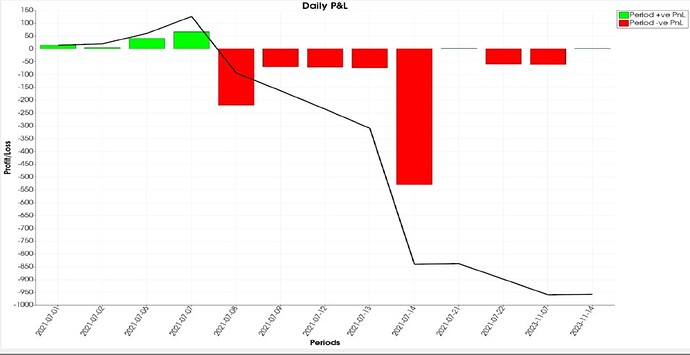 I have attached the resulting chart. As you can see I am using a stacked bar to get bars with different colours. Green for positive bars and red for negative bars. The line is the cumulative sum. The legend is only showing the bar info for some reason.
The part of the code that changed to add the stacked bar and resulted in the missing "line" info in the legend is below.
Am I doing something fundamentally wrong here? Appreciate any advice that can be offered.
  // Add the Bar or Line Plot for yData_ (first column is always the Bar data)
  vtkPlot*    line;
  vtkPlotBar* bar;

  vtkNew<vtkColorSeries> customColourSeries;
  customColourSeries->ClearColors();
  vtkColor3ub green(0, 255, 0);
  vtkColor3ub red(255, 0, 0);
  customColourSeries->AddColor(green);
  customColourSeries->AddColor(red);

  bar = vtkPlotBar::SafeDownCast(chart->AddPlot(vtkChart::BAR));
  bar->SetColorSeries(customColourSeries);
  bar->SetOrientation(vtkPlotBar::VERTICAL);
  bar->SetInputData(table, 0, 1);
  bar->SetInputArray(2, yLabels_[1]);

  line = chart->AddPlot(vtkChart::LINE);
  line->SetInputData(table, 0, 3);
  line->SetColor(0, 0, 0, 255); // Black line.
  line->SetWidth(3.0);
  line->SetLegendVisibility(true);