Hello!
I'm clipping a vtkUnstructuredGrid with a vtkCylinder. I got both parts (making use of GenerateClippedOutputOn()).
However, one of my resultant grid has artifacts. I wasn't able to be sure what are the problem, but I think there are some tetrahedras which are "degenarated".
Part of my source code:
clipCylinder->SetRadius(float(size/3));
auto clipper2 = vtkSmartPointer< vtkClipDataSet>::New();
clipper2->SetClipFunction(clipCylinder);
clipper2->SetGenerateClipScalars(true);
clipper2->SetUseValueAsOffset(true);
clipper2->SetMergeTolerance(0.001); // I change this number and noting happens
clipper2->GenerateClippedOutputOn();
clipper2->SetInsideOut(0);
clipper2->SetInputData(unstGrid2);
clipper2->Update();
auto unstGrid3 = vtkSmartPointer::New();
auto unstGrid4 = vtkSmartPointer::New();
unstGrid3 = clipper2->GetOutput();
unstGrid4 = clipper2->GetClippedOutput();
unstGrid3 in Paraview: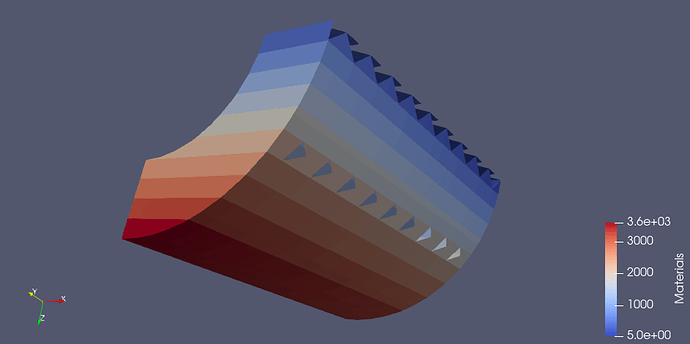 Another piece of information: if I try to filter it in Paraview, I get the same result with Clean Cells To Grid and another erroneus grid with Clean to Grid. However, in this case, the "empty faces" are fine but other faces become "empty".
My questions:
Any clues on what can be happening?
Should I use a filter after getting the vtkUnstructuredGrid from clipping? Somthing like "close volume surface".
Using VTK version 7.1.1
I've been struggling with this issue for quite some time now and I could not find any tips from vtk examples nor from google. Since I'm pretty new to VTK, I believe I am missing something of the process.
Thanks in advance,
Vitor Silva
2020-05-03T23:00:00Z