Hi all,
I am looking at VTK conventions for node ordering especially for vtkHexahedron.
I am also looking at the VTK documentation stating : The hexahedron is defined by the eight points (0-7) where (0,1,2,3) is the base of the hexahedron which, using the right hand rule, forms a quadrilaterial whose normal points in the direction of the opposite face (4,5,6,7).
My question : what does "base" means? Is it the bottom face? I don't really think it makes sens since it can be hard in some cases to define what is the bottom face (i.e. diamond orientation).
If "base" means "whatever face", I guess that these two below hexahedra are valid from a VTK point of view. Could you confirm please?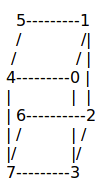 vs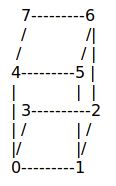 The same question may apply to vtkTetrahedron (and to all kinds of polyhedra which have not a single particular face based on its node count).