Hi all,
We're running with multi-sampling disabled since it's problematic when combined with volume rendering on Intel GPUs (GL errors/black screen).
Instead we use FXAA with default settings to at least get some anti-aliasing for our polygonal geometry.
However, thin lines really don't look that good, especially when drawn at near 45 degree angle.
Example of a line with width 2.0 rendered at near 45 degree angle with FXAA at default settings: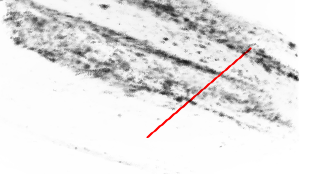 I've tried to play around some with the FXAA options based on the blog post at https://blog.kitware.com/new-fxaa-anti-aliasing-option-in-paraviewvtk/ , but haven't been able to improve the result much.
Is there any way to do volume rendering + nice anti-aliased polygonal geometry (especially thin lines) that works reliably on Intel/NVIDIA cross platform?