Hi,
I describe here a problem I am facing to. It follows a question that I had asked here as: get a continuous line from a polydata structure
Today, I would like to produce maps with filled polygons (that may have holes).
The problem is described here: Make polygons valid and ready to be plotted as matplotlib patches · Discussion #3791 · pyvista/pyvista · GitHub
But the problem could be solved from a VTK point of view by creating separate regions even if they are connected by a single vertex (extract_feature_edges). I have not been able to do that
and this is the purpose of my question.
Here is snippet for testing.
import pyvista as pv
import vtk
import random

! wget -q -nc https://thredds-su.ipsl.fr/thredds/fileServer/ipsl_thredds/brocksce/pyvista/mesh3D.vtk
mesh = pv.PolyData('mesh3D.vtk')
edges = mesh.extract_feature_edges(boundary_edges=True)

pl = pv.Plotter()

R = 6371E3
#pl.add_mesh(pv.Sphere(radius=R*0.999, theta_resolution=360, phi_resolution=180))
#pl.add_mesh(mesh, show_edges=True, edge_color="gray")

regions = edges.connectivity()
regCount = len(set(pv.get_array(regions, name="RegionId")))

connectivityFilter = vtk.vtkPolyDataConnectivityFilter()
stripper = vtk.vtkStripper()

for r in range(regCount):
    connectivityFilter.SetInputData(edges)
    connectivityFilter.SetExtractionModeToSpecifiedRegions()
    connectivityFilter.InitializeSpecifiedRegionList()
    connectivityFilter.AddSpecifiedRegion(r)
    connectivityFilter.Update()
    
    stripper.SetInputData(connectivityFilter.GetOutput())
    stripper.SetJoinContiguousSegments(True)
    stripper.Update()
    reg = stripper.GetOutput()
   
    random_color = "#"+''.join([random.choice('0123456789ABCDEF') for i in range(6)])
    pl.add_mesh(reg, color=random_color, line_width=2)

viewer = pl.show(jupyter_backend='pythreejs', return_viewer=True)
display(viewer)

It produces: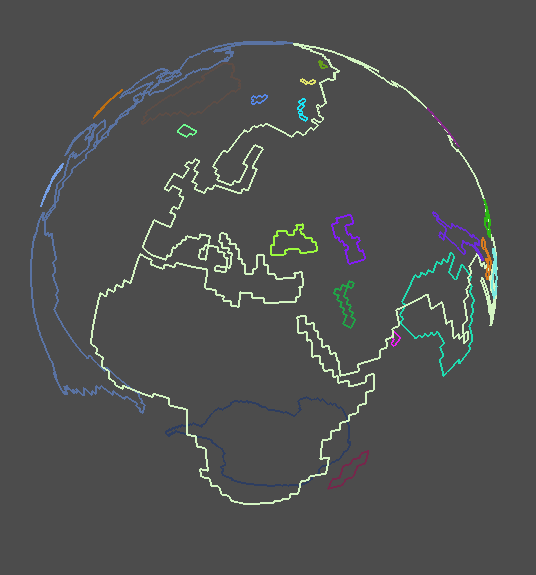 and zoomed here is an example of an extracted region :



that I would like to separate and be seen as 2 distinct regions. I will then be able to describe for each polygon their coordinates anti-clockwise as requested by the matplotlib path structure.