Overview:
I'm curious about scaling a rendering scene for a feature in an open-source, VTK-based project I have been contributing to: vtki. Overall, vtki provides an intuitive, pythonic means of interfacing with VTK datsets and rendering VTK datasets with matplotlib similar syntax.
Motivation:
I'd like to exaggerate an axis in a VTK rendering window. This is very common (almost necessary) for many geoscientific applications. Often we're dealing with 10s-100s of square kilometers in the lateral (XY-plane) while looking only in the 10s-100s of meters in the Z-direction. These proportions make visualization rather difficult and exaggeration would help significantly.
Implementation:
Lately, I've been working towards making it easy for users to scale a scene and I have implemented a way for a user to call set_scale(1, 1, 10) to scale the rendering scene by ten along the z-axis. On the vtki backend, I iterate over every actor in the scene and call SetScale which scales all the datasets in that scene. Here's the code that does it:
...
for name, actor in self._actors.items():
    if hasattr(actor, 'SetScale'):
        actor.SetScale(xscale, yscale, zscale)
...

The Issue:
However, whenever this gets to a vtkCubeAxesActor object, the SetScale call appears to do nothing. For an explanation please see akaszynski/vtki#39 and the following:
Without a scaling: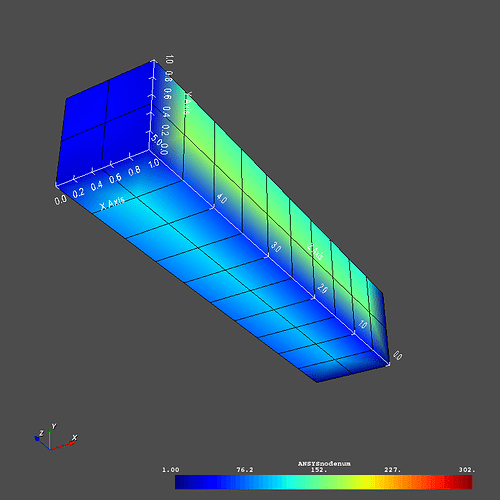 After a scaling of (4,4,1):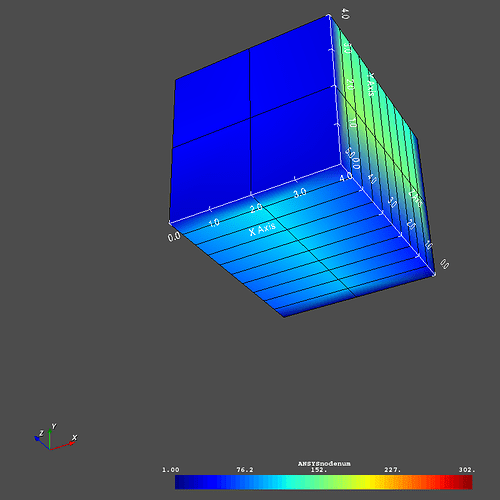 Note that the cube axes didn't scale… Ideally, I'd like the cube axes to display scaled coordinates. such that the range is the same as in the first picture.